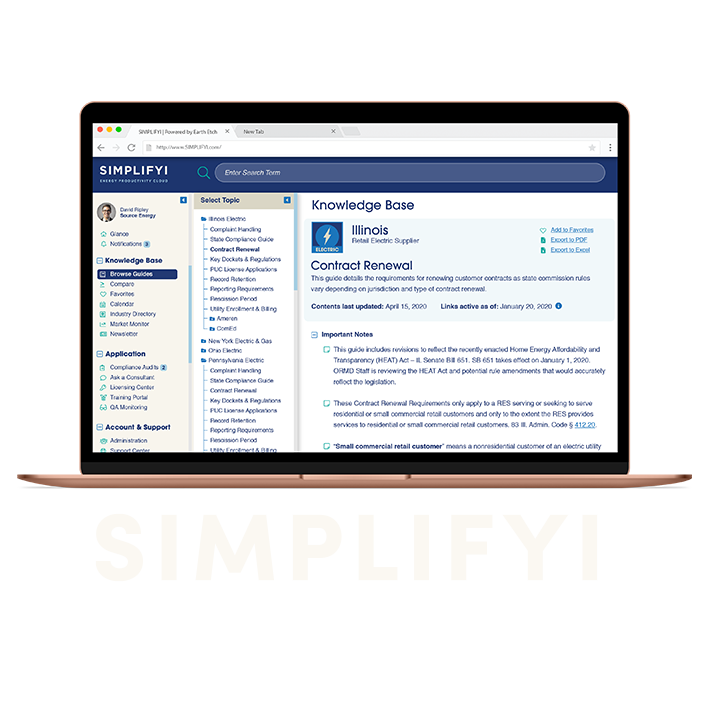 Make your work day easy with SIMPLIFYI, a subscription-based compliance platform that provides you with tools and news to make operational and regulatory compliance easy.
SIMPLIFYI Energy Compliance Platform
What if you could have the power of a compliance knowledge base and market intelligence at your fingertips? What if you could access those resources anytime? Now you can. Meet SIMPLIFYI, Earth Etch's compliance platform that simplifies everything. SIMPLIFYI is a comprehensive library of regulatory and operational compliance requirements at your fingertips and it's easily searchable across markets, commodities, and utilities. Sign up for a SIMPLIFYI demo and recieve a FREE MONTH preview of our MAGNIFYI Energy Headlines newsletter.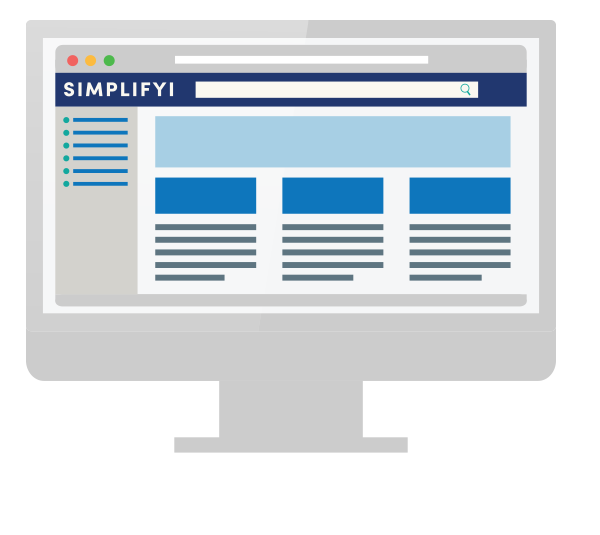 A full library of Earth Etch regulatory and operational compliance reference guides are available at your fingertips. Easily searchable, across markets, commodity and utilities. Search, view, filter and bookmark important regulatory and operational compliance guides in the substantial SIMPLIFYI knowledge base.
Whether you're looking to enter a new market or get a better handle on your existing ones, SIMPLIFYI's comparative analysis tools, will save you countless hours of detailed research. And because SIMPLIFYI gives you easy access to information across all markets, utilities, and commodities, you'll be able to make informed decisions that improve your bottom line.
With the SIMPLIFYI Calendar, you'll get notices for events such as reporting requirements, filing deadlines, commission meetings, and Earth Etch Market Monitoring sessions. The calendar is updated regularly so you'll never need to worry about missing an important date again. You can customize your calendar and export to Outlook, Google and iCal.
SIMPLIFYI's Dockets at a Glance content identifies key dockets applicable to suppliers and is designed for use by legal and regulatory teams to quickly locate and review docket filings. The Energy Rules at a Glance and Energy Statutes at a Glance provide state-specific administrative rule provisions and statutes of interest to retail energy professionals.
Earth Etch Compliance Audit Checklists details commission rules, statutes, regulations and/or docket decisions pertaining to operational requirements within the state. they are designed to ensure that employees and agents are informed of and compliant with state regulations. You can access purchased audits within your SIMPLIFYI account. It's self-service compliance made easy.
Access the latest energy industry compliance news if you are a subscriber to Earth Etch's MAGNIFYI newsletter. MAGNIFYI is a subscription-based, weekly newsletter that offers the latest in compliance news and insights within the retail energy industry. You can search across headlines, download the newsletter in PDF form, and access newsletter back issues.
For energy suppliers who need to understand how and when market rule changes will impact their business, Market Monitor is for you! Market Monitor provides you with advanced notice of pending changes through detailed reports and alerts, including monthly recorded and archived audio meetings and supporting information for download.
With SIMPLIFYI, it's easy to search, filter, save, favorite and bookmark important compliance content, guides and comparative data. You can search portal-wide or content-specific. Search results are precise and broken down into relevant buckets, so it's easy for you to find what you need. You can also filter search in every guide and comparative data set.
Sometimes you just want soft copies to email, print out or share. With SIMPLIFYI, you can export and print our compliance guides to PDF and export comparative analysis data to Microsoft Excel files. You can even filter content before exporting to get exactly what you need and want.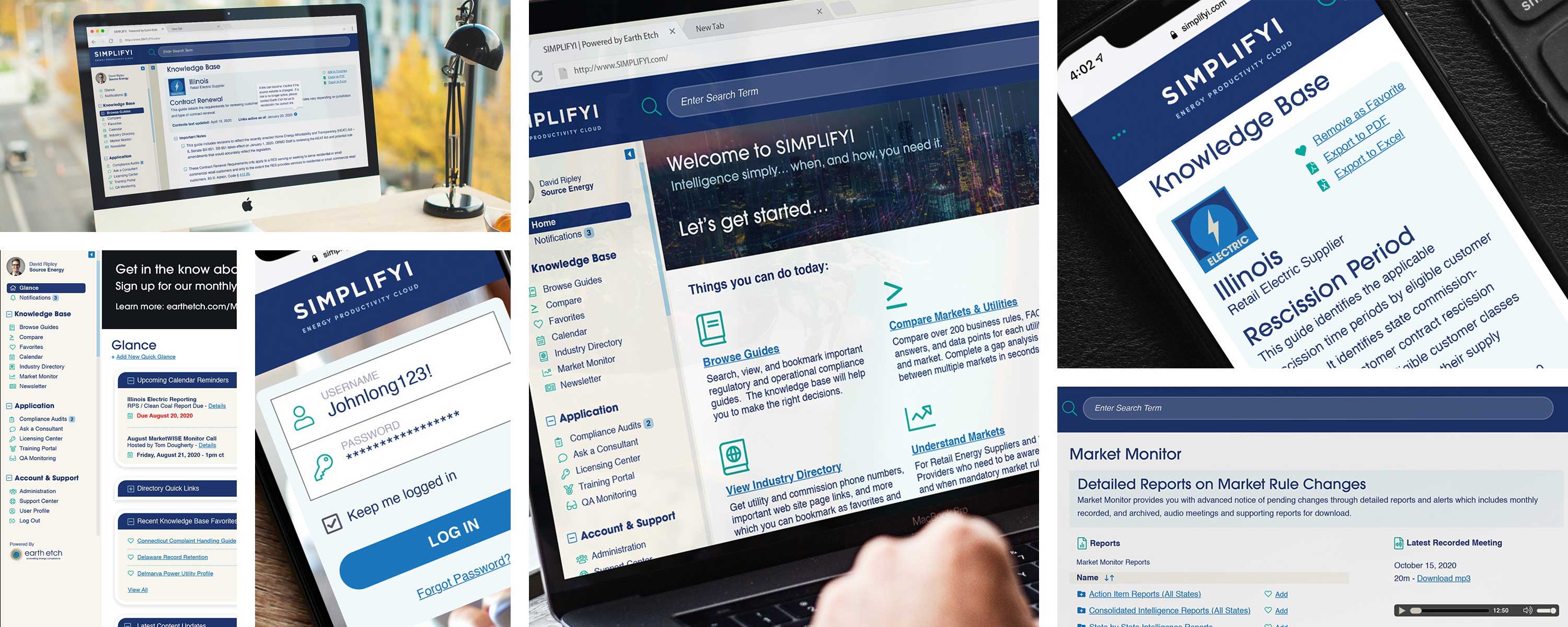 Ready to SIMPLIFYI work for your business?
To set up a time to talk to us call 312-920-1849
Sign Up for Earth Etch Email Updates
unravelling energy compliance
Earth Etch unravels the complexities of regulatory and operational compliance while untangling the intricacies of new market entry for energy companies throughout the world.
---
© 2023 by Earth Etch LLC. All rights reserved.
Earth Etch is not a "lawyer referral service" and does not provide legal advice or participate in any legal representation. Earth Etch is not a law firm or a substitute for an attorney or law firm.

Privacy Policy | Terms of Service