self-service compliance made easy
Whether you operate in traditional energy sources or renewables, you can remain compliant, deliver quality service and grow your business. Earth Etch offers many different types of commission and utility guides for you to purchase so that you can easily self-audit each team to ensure compliance.
guides for all types of compliance
We offer guides and checklists that will help you mitigate risk while delivering quality service to your customers. Below are the guides we offer: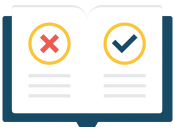 compliance audit checklists
Each checklist details commission regulatory obligations within the state. It is designed to ensure that employees and agents are informed and can self-audit the company's compliance with the rules.
View State Audits Bundles for Purchase

These guides details the requirements for renewing customer contracts as state commission rules vary depending on jurisdiction and type of contract renewal notices that are required.
View Contract Renewal Guides for Purchase

key dockets & regulations at-a-glance
These guides identify state statutes, commission rules and key dockets applicable to suppliers and brokers are designed for use by legal and regulatory teams to quickly locate and review regulations or Commission Orders on key issues.

puc license application guides
These guides provide detailed state commission instructions on the procedures for completing and submitting a license application, which is required before marketing or serving any customers in any particular state.

These guides detail the state commission requirements for retention of customer contract enrollment documents. They detail exactly what documents must be kept, how long these records must be kept as well as the format they must be stored.

reporting requirements guides
These guides identify regulatory reporting requirements by State Commission, Federal Energy Regulatory Commission (FERC) and U.S. Energy Information Administration ( EIA) so you can stay up-to-date on applicable monthly, quarterly and annual report requirements.

These guides identify State Commission-mandated customer contract rescission periods in which eligible customer classes are permitted to rescind their supply contracts without penalty.
utility compliance guides

small commercial definition guides
These guides provide snapshots of each utility's definition of a small commercial customer within its service territory as a quick reference for your company's sales and operations teams. They also provide the applicable state commission's definition as it relates to the state-mandated rescission period. In several jurisdictions, the utility definitions are not the same as the state definition.

utility enrollment & billing guides
These guides provide essential utility timelines and information for use by Billing, Sales, Customer Care, IT, and Contract Administration personnel to help them understand the unique customer enrollment and billing timelines and processes used by each utility.

market intelligence guides
These handy guides provide key market information and statistics by utility that your company can use on a daily basis to run and expand your business.
Coming Soon. Check back for more information.

utility customer class size guides
These handy guides provide the commercial customer size definition for each utility in a given state.
Coming Soon. Check back for more information.

utility supplier registration guides
Coming Soon. Check back for more information.
Senior Vice President
Energy Consulting Firm, Greater Philadelphia Area, Electric & Gas
"…proven track record delivering practical solutions to the everyday challenges faced by our firms retail electric and gas supplier clients."
sign up for Earth Etch email updates
unravelling energy compliance
Earth Etch helps unravel the complexities of regulatory and utility compliance for energy companies throughout the world.


---
© 2019 by Earth Etch LLC. All rights reserved.
Earth Etch is not a "lawyer referral service" and does not provide legal advice or participate in any legal representation.
Earth Etch is not a law firm or a substitute for an attorney or law firm.

Privacy Policy | Terms of Service